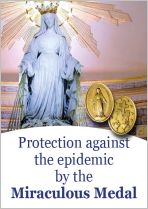 While in 1832 the first Miraculous Medals were being produced, Paris was hit by a terrible cholera epidemic that claimed more than 20,000 lives.
In June, the Daughters of Charity started to distribute the first 2,000 medals, especially to infected people who filled the hospitals.
The healings increased, also the special protection against the disease and the healing in emotional distress. It was overwhelming. The population of Paris began to call the medal "miraculous".